08/15/2023
We are proud to announce that 14 of our attorneys have been recognized as "Super Lawyers" or "Rising Stars" by Super Lawyers Magazine! Only the top 5% of attorneys earn the title of Super Lawyer each year, and only 2.5% of attorneys under the age of 40 or in practice for <10 years earn the title of Rising Star.
The following attorneys from our firm are 2023 Super Lawyers:
Matt Adams
Stephanie Andersen
Carl Forsberg
Natalie Heineman
Lori Hurl
Galina Jakobson
Jeff Kestle
Rick Lee
Grant Lingg
Rob Novasky
Marty Pujolar
Kim Reppart
The following attorneys from our firm are 2023 Rising Stars:
Nicole Morrow
Alex Ormsby Slader
A special congratulations to Stephanie Andersen for being recognized as one of the Top 50 Women Attorneys in Washington for the second year in a row, and to Carl Forsberg for his continued recognition as one of Washington's Top 100 Attorneys!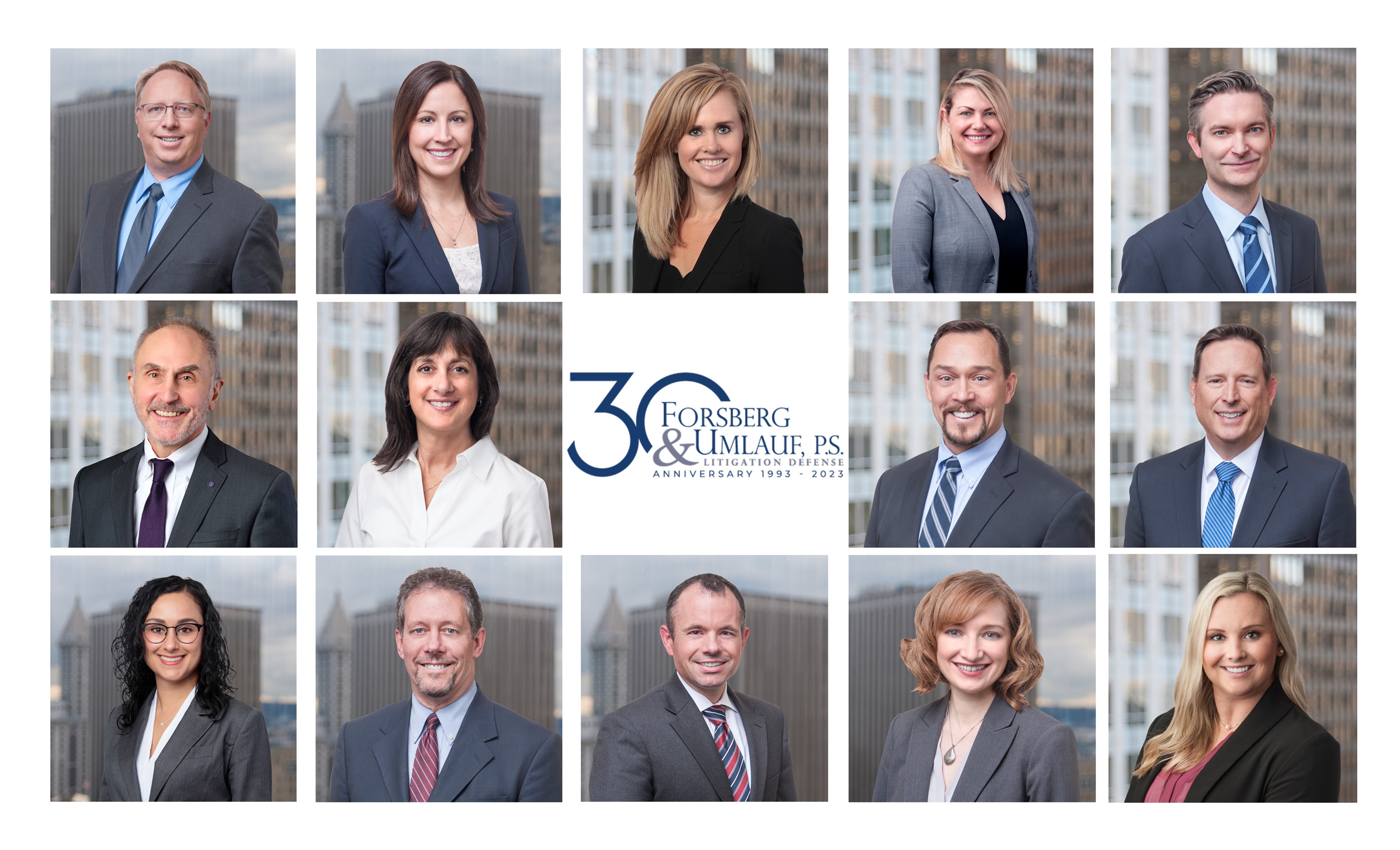 Top row, from the left: Matt Adams, Natalie Heineman, Lori Hurl, Galina Jakobson, and Jeff Kestle. Middle row, from the left: Rick Lee, Stephanie Andersen, Carl Forsberg, and Grant Lingg. Bottom row, from the left: Nicole Morrow, Rob Novasky, Marty Pujolar, Kim Reppart, and Alex Ormsby Slader.
09/26/2022

Congratulations to Rosalie Boyle on being sworn-in as an attorney! We are so excited to see you grow in your career!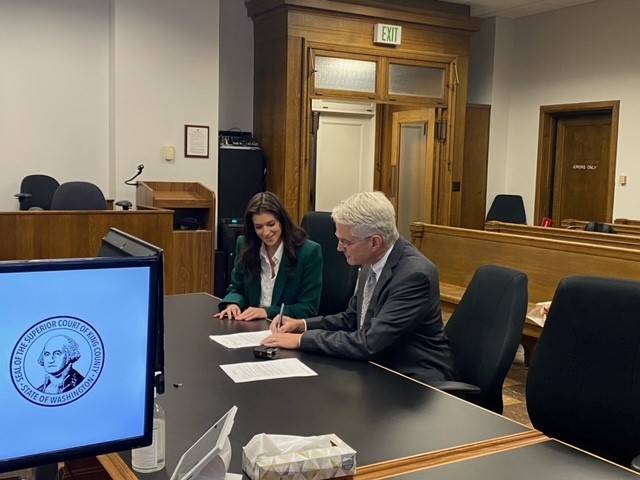 05/31/2022
We are excited to announce that Shareholder Roy Umlauf earned the 2022 Outstanding Lawyer Award presented by the King County Bar Association (KCBA)! This award recognizes those who have made a tremendous impact on the practice of law in their community.
Throughout his career, Roy has served as a teacher and mentor to attorneys and law students alike. He has taught over 100 CLE courses, served as President for the Washington Chapter of American Board of Trial Advocates, and gives back to the legal community through his involvement in organizations like the Foundation for Washington State Courts, an organization that improves access to and enhances the quality of justice in Washington State. More recently, during the Covid-19 pandemic, Roy played a key role in developing virtual trial processes that were crucial to keeping King County trials nimble during lockdown and beyond.

Congratulations, Roy, on this well-deserved honor!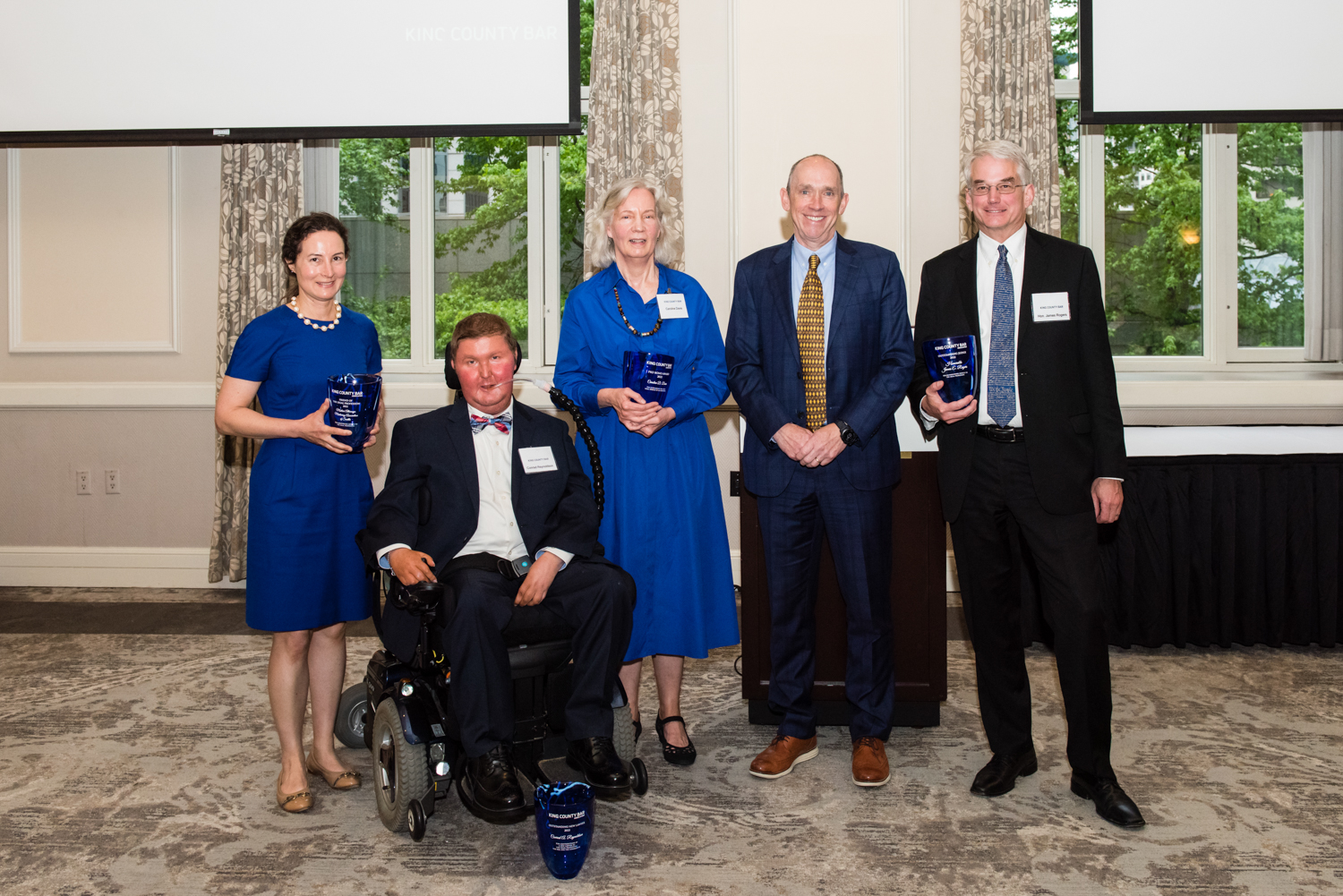 10/01/2021
Carl Forsberg & Roy Umlauf: Carl & Roy's Excellent Adventure by Patrick S. Brady

"Bill & Ted's Excellent Adventure," set in 1988 and starring Keanu Reeves, featured two slacker dudes who were flunking high-school history. Knowing only that George Washington was the "dollar-bill guy," they time-traveled to the past in a phone booth (remember those?) and returned with Napoleon, Abraham Lincoln, Joan of Arc, and assorted other notables (all in the same phone booth), who performed onstage at San Dimas High in a living-history report with the original cast that earned an excellent grade for Bill and Ted. Six score and five years after Gettysburg, Lincoln's San Dimas Address exhorted all: Be excellent to each other.
Though they never left the present (as far as I know), Carl Forsberg and Roy Umlauf launched their own excellent adventure in November 1993. With years of experience behind them, they founded Forsberg & Umlauf with eleven attorneys in all, including me. Now numbering 32 attorneys, the firm specializes in insurance defense (counsel retained by insurer to defend insured) and insurance coverage (representing insurers in coverage disputes).
If Bill and Ted were slackers, Carl and Roy are not. Roy stays "as busy as any lawyer in town," notes Seattle lawyer Stan Perkins. Working with him on a committee, Tom Vertetis found it "exhausting" to keep up with Roy, who never slows down, not even for hip surgery. And Carl is the "most energetic person I ever met," often called the Energizer Bunny, remarks King County Superior Court Judge Steve Rosen.
Roy and Carl draw praise from bench and bar, including the opposing bar. Treating law as "a noble profession," defense attorney Roy is "a shining example, a brilliant attorney, . . . consistently excellent," in the view of plaintiffs attorney Perkins. "Although Roy is a seasoned trial lawyer," he is "eager to get to common ground," the "right outcome," with "a sense of equity." Ann Rosato, now with a plaintiffs firm, considers Roy "the most respected defense attorney" around, one of the few who will "try to do the right thing for the client while still being fair to the plaintiff." Judge Paris Kallas, formerly of King County Superior Court and now with Judicial Dispute Resolution, has seen Carl for 20 years in court and mediation, "in challenging positions [where] you get to know someone's character." He "sets the standard" for our legal community, with "his strong work ethic, integrity, and constant professionalism." And "he's an absolute delight" as a human being. Plaintiffs attorneys Vertetis and Darrell Cochran squared off against Carl in a big case that settled after two weeks of jury selection. Tom "thinks the world" of Carl, a "tremendous advocate" who "fights like Gettysburg," but maintains "balance . . . humor, and graciousness" and is glad to share a beer afterwards. Darrell found Carl to be a zealous advocate for the defense in "stressful and tense situations," but an advocate who showed "compassion and candor you don't always get from opposing counsel."
With their extensive trial experience, both Roy and Carl have been named many times among the Top 100 Lawyers in Super Lawyers. A Past President of the Washington Defense Trial Lawyers, Roy received its highest honor, the Jack Scholfield Award. Carl received its 2010 Defense Lawyer of the Year award. Elected to the American College of Trial Lawyers, Roy is the current Washington Chapter President of American Board of Trial Advocates, an invitation-only association of experienced trial lawyers and judges who exhibit civility, integrity, and professionalism, and who promote the civil jury trial right. The Chapter is engaged in outreach to bring civics to schools.
Roy and Carl have taught more than 100 CLEs apiece. King County Superior Court Judge Matt Williams has worked with Carl on the National Institute for Trial Advocacy, where Carl has been an instructor for more than 20 years. Judge Williams considers Carl an "enthusiastic, compelling, dynamic, and charismatic" speaker, who conveys his energy and excitement to lawyers and students. Carl has been a Trial Skills Adjunct Professor at UW School of Law and a Guest Lecturer at Seattle University School of Law. At Seattle University, defense attorney Roy and plaintiff s attorney Stan Perkins pioneered a course on Tort Litigation that was the first practical course students had taken that truly attempted to show both sides of a civil tort case.
Roy and Carl believe in mentoring. During five years as an Associate at Forsberg & Umlauf, Ann Rosato regarded Roy as a "pivotal mentor." It was not "until I joined" the firm, recalls Maggie Kirschner, that "I was actually taught and shown what being a good lawyer was all about," and learned to approach "all cases and plaintiffs with empathy and genuine respect." Judge Williams, who teaches courses at Seattle University School of Law, has been impressed with the mentoring given to some of his former students hired by Forsberg & Umlauf, where Roy and Carl instill "the essence of professionalism, always civil and pragmatic."
Forsberg & Umlauf gives back to the community through a wide range of legal-related charities. The firm, for example, is the perennial winner of the Golden Coat Award, a WDTL holiday drive to distribute coats to groups across Western Washington. Roy's activities range from coaching soccer to co-founding the foundation for Washington State Courts, an organization that raises money to support equipment and security needs for Washington Superior Courts. The engine behind the foundation, Roy is its Past President and current Vice-President.
Community-oriented, Carl "gives much time to the bar," observes Judge Rosen. In his years with the King County Bar Association, Carl has been Vice-President, Trustee, and Chair or Co-Chair of the Bench Bar Conference, the Judicial Evaluation Committee, and the Judicial Officer Survey Committee (12 years). Named 2013 Outstanding Lawyer of the Year, he received the 2018 President's Award. Among many other positions, Carl has been President of the Northwest Insurance Coverage Association.
Carl and Roy remain self-effacing, fellow law-school student Stan Perkins "knew Roy was a great student, but very unassuming and fun and as it turned out he finished top in our class." Once when I argued a defense motion for summary judgment, the Judge granted the motion and pointed out that plaintiff s argument A missed point X. Roy came to the hearing, and as we walked back to the office, I said that was a good argument the Judge came up with about point X, and I wished I'd thought of it. "Yeah," Roy added, "me too."
Hospitality helps. While time-traveling through centuries past, Bill and Ted offered unfamiliar treats to those they encountered: "Have a Twinkie, Genghis Khan?" While traveling in the present to Yakima and back, Roy urged a Suburban-full of WDTL lawyers to pull off at a Dairy Queen for a Brown Topper, hitherto untasted by the others. From the seat way in the back, Roy passed cash forward to the driver, WDTL Executive Director Maggie Sweeney.
The modern law firm has been called a pyramid, a Ponzi scheme. But not at Forsberg & Umlauf, where the senior partners work more hours than the Associates. "Carl and Roy are like family to me," says Firm Administrator Laura Mack. "Having worked with both of them for going on 24 years, I can truly say they are the big brothers I never had." When a file is missing, relates Carol Simpson, Carl's longtime secretary, it is invariably buried in Carl's office: "I ask him to step out and let me look. Once I find the file (and I always do), he asks me where it was and I tell him it was on my desk." Carl, she adds, is "a go-to for everyone he comes into contact with." When Covid first threatened to lock down Seattle, the firm held a meeting. Dedicated to faith, family, and firm, Forsberg & Umlauf made a commitment to keep all employees while adapting to restrictions: "We would all go down together." Outside the office, Roy and Carl continued to contribute despite Covid. Working with Superior Court Judges, WDTL, KCBA, ABOTA, and others, they were a crucial part of developing virtual jury trial processes that have become a national gold standard. Carl and Roy's contributions of continuing improvements and suggestions are credited with keeping King County on the cutting edge of trial technologies.
"Bill & Ted's Excellent Adventure" ended with one character's verdict: "If you guys were separated, it would have been disastrous for life as we know it." We make no such extravagant claim for Carl and Roy, but they have made things better by trying to be excellent to all.
Patrick S. Brady taught U.S. History at the University of California, Riverside, and practiced law for four decades. His articles and reviews have appeared in legal and historical journals and in veteran and defense publications; he has taught CLEs on Insurance, on Brokers, and on The Law Practice of Abraham Lincoln. He retired from Forsberg & Umlauf in 2017.

Carl and Roy's Excellent Adventure was originally published in the October 2021 issue of the King County Bar Association Bar Bulletin. Reprinted with permission of the King County Bar Association.


With Experience Brings Passion